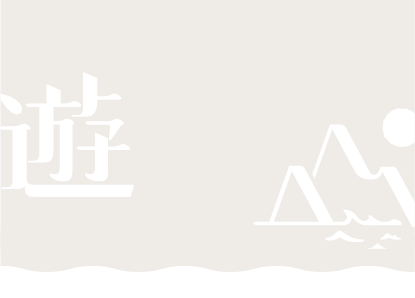 Fukuroi Travel Guide
Fukuroi city Tourism Association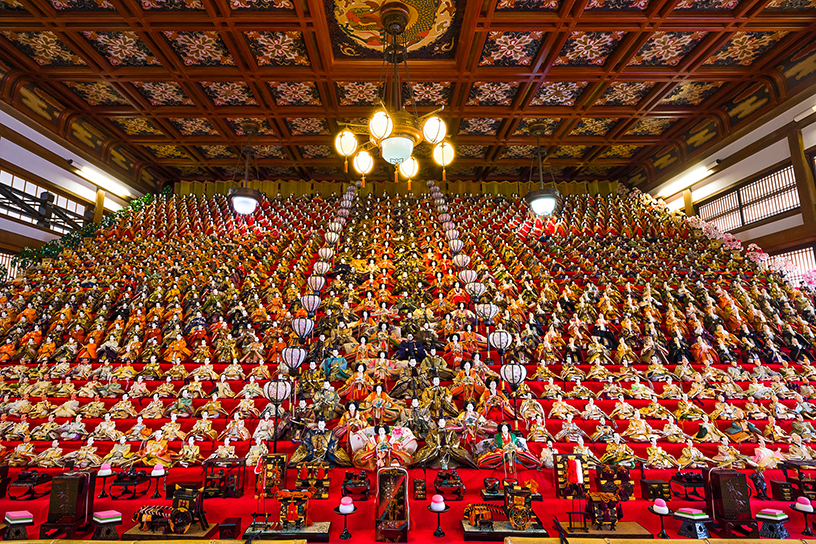 Roaming, Fukuroi
Welcome to Fukuroi, where many historic old temples have kept eternal time, and expression of abundant nature colors in each season and seasonal changes can be felt.
Introduction of FUKUROI-City
FUKUROI-City, being located in the west in Shizuoka-Prefecture and holding Mt. Fuji, is a garden city blessed with the mild climate and abundant nature. There are also places in the city from which you can see Mt. Fuji. It is also favored with traffic conditions such as Tomei Expressway, new Tomei Expressway, Tokaido Shinkansen, Tokaido Main Line and the Mt. Fuji Shizuoka airport, including route 1 of national road, and access from downtown of Tokyo and Osaka is so convenient that it's also the town where eastern and western exchanges are performed frequently.
There are many temples with a long and distinguished history in the city, and you can enjoy taste of each season throughout the year, like cherry blossoms in Hattasan in spring, water lily of Shoshu Temple in summer and colored leaves of Yusan Temple in autumn. Various kinds of agriculture such as rice, tea, greenhouse melon, vegetable and flower have been carried on, because it's blessed with the mild climate, and urban and agricultural areas make the development with a fine balance. A crown melon which takes pride in its best quality in Japan and flavorful Fukuroi tea are gems to be proud of.
Enshu Sanzan
Enshu Sanzan which takes pride in the history of more than one thousand years.
In this travel, you visit the prayer place which becomes grounds at your heart, and will be confronted by yourself and meet yourself. Please find your characteristics which you are going to forget and, new you who you have never noticed so far.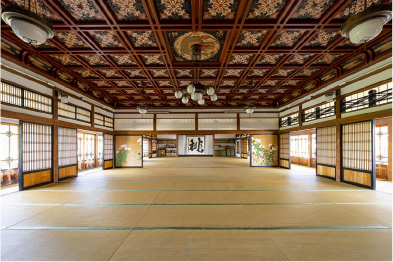 Kasuisai

In the large Zen training hall, closely connected with Tokugawa Ieyasu,Zen meditation and sutra transcription can be experienced. Please taste mentally and physically-friendly vegetarian dishes which, according to Zen teaching, bonzes in charge of preparing meals make with the utmost care, using the ingredients in season. There is a training room where peoples in the Zen sect train themselves.A general person can experience the part of the study of Zen, too.
2915-1, Kuno, FUKUROI-City
TEL 0538-42-2121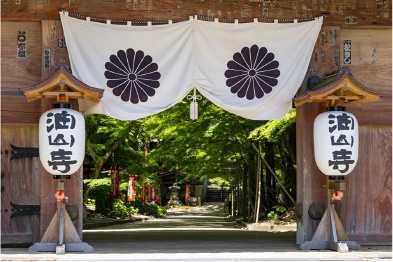 Yusan-ji Temple

There are many cultural assets including the three-storied pagoda which Minamoto Yoritomo built in return for complete recovery of eye disease.It's deeply believed as a temple for complete recovery of various diseases, particularly for eye diseases.This temple possesses a lot of calligraphy of Kizan Kawamura, a calligrapher born in FUKUROI-City. It's possible to see the part of them."Big Rosary Festival" is performed in August, and participants wish health and peace, turning the rosary.
1, Muramatsu, FUKUROI-City
TEL 0538-42-3633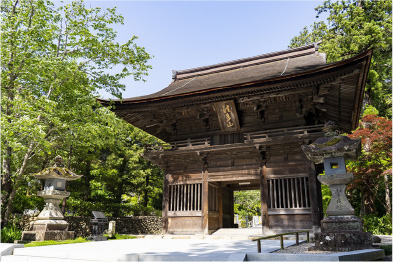 Hattasan

As well as the prayer to Goddess of Mercy, yoga and cafe are also recommended for busy men of today as events of refreshment.
Yakuyoke (a charm protective) dumpling, named by Tokugawa Iesada, 13th Shogunate and continued up to the present, is so delicious that it sets a heart at ease in gusto. Meals and gifts at stores in Monzen streets are popular, and they are in great bustle with the people who come to the visit.
2777, Toyosawa, FUKUROI-City
TEL 0538-43-3601
Enshu Sanzan A journey of
self-pilgrimage Helpful Map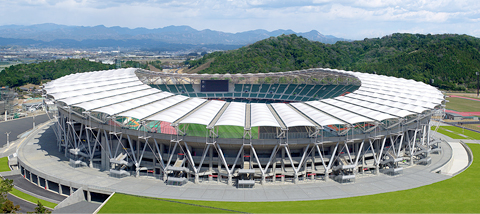 Ogasayama General Sports Park,
Ecopa

It's General Sports Park surrounded by the abundant nature of Ogasayama , of which theme is "health, sport and nature". In the magnificent park, centering on Ecopa Stadium which have accommodation of 50,000 people, there are the facilities where you can make positive health, practice recreation, and take a walk in nature in each season. The Rugby World Cup is decided to be held in 2019, and citizens will cooperatively entertain customers from all over the world.
2300-1, Aino, FUKUROI-City
TEL 0538-41-1800
Product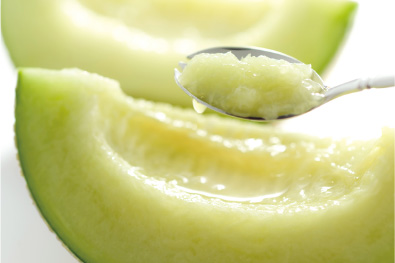 Crown melon

It's the highest-class muskmelon coming from only one fruit in a plant, which is carefully selected, left and brought up, with collecting all nutrition from the plant. The beautiful outward appearance and the excellent taste are characteristic of Crown melon and the professionals' excellent cultivation know-how grown by long tradition is also poured into it. The ultimate taste born by growers' master-hand is also very much appreciated as a gift.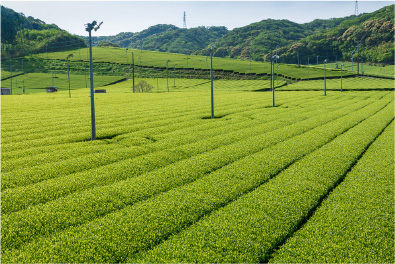 Green Tea

Hukuroi-Tea is the green tea being proud of excellent body and taste accomplished by the favorable conditions which the nature produces, such as the blessed climate, the amount of rainfall, the clean air and soils suitable for cultivation. it's produced focusing on the deep-steamed green tea which is said that it has inhibiting effect of cancer. To put on the custom that people have tea from child's time, tea supplying machines are installed in the elementary schools in the city, and the whole town is enjoying good tea such as in " Fragrant Hill Chapia " where a real tea place experience can be enjoyed.
Seasonal Event
January-March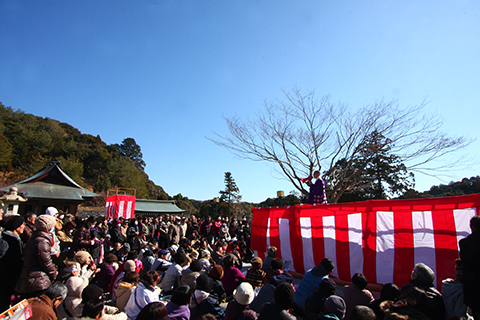 The day before the calendrical beginning of spring (Setsubun)

At the Setsubun ritual in Hattasan, lucky beans are scattered by men and women, who were born in the years with the same zodiac sigh as the current year, from the stage provided in front of the main temple. These beans are prayed for removing misfortune and inviting fortune and peoples who get hit beans are presented bringers of good luck. At Sairakuji,an event from the old days as "Leapfrog" is also performed simultaneously with an event on Setsubun. It's a rare event praying for perfect health conditions of cattle such as horses, which were used to be valuable labor of farming, and for a good harvest.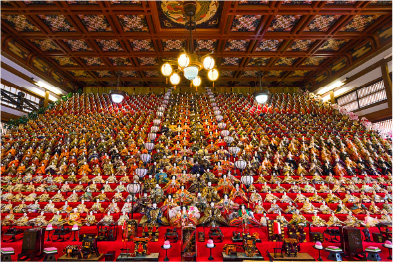 Girls' Festival

"The Kasuisai Girls' Festival" is held from New Year's Day in Zen temple Kasuisai with the deep relation to Tokugawa Ieyasu. About 3,000 dolls are displayed at the Festival, donated by a doll memorial service and have been kept carefully. The views that 1,200 bodies of dolls at 32 steps are displayed in the great hall are really the highlight. In modern times when information and things are overflowing, it's the best event where you are able to learn "the thought that things are taken good care of " as well as to know closely Japanese traditional culture once more.
April-June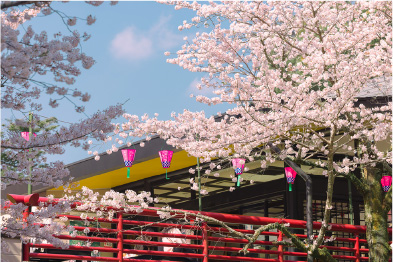 A cherry blossom festival / Hattasan

About 300 Someiyoshino cherry trees in the precinct bloom simultaneously, and various events like cafes and workshops are held on Saturdays and Sundays during the cherry blossom festival period. The Yakuyoke (a charm protective) dumpling sold in the garden of the temple is famous and is also appreciated as a gift. Various pleasures such as a parent and child sketch meeting, Fukuroi spring tea service and opening of the stall, and so forth, can be experienced together in this event.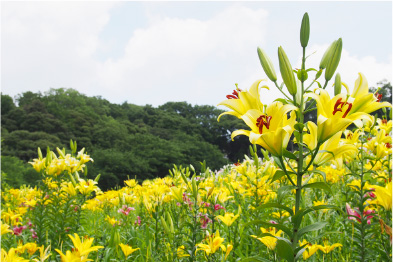 Kasui Lily Garden

Excellent lilies of 2,000,000 stumps from about 150 varieties are in their glory in the best time starting from the end of May, in a garden of the lily spread in hills in 30,000 tsubos (1 tsubo is 3.3m2) next to Kasuisai. The view that multicolored lilies, such as yellow, pink and orange, are blooming as if they were competing with one another is very impressive. There are many varieties which can bloom only in this place and the Japanese garden with an excellent waterfall and tea-ceremony room, which reminds us of a landscape painting, should not be missed.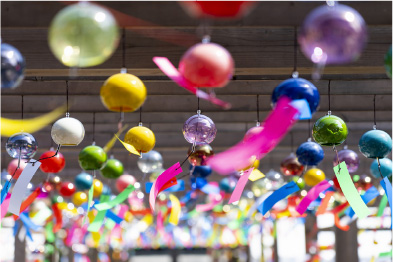 Enshu Sanzan Furin Matsuri

「Enshu Sanzan Furin Matsuri (Enshu Region Three Temples Wind Chime Festival) is held at three major Buddhist temples in Fukuroi: Hattasan, Kasuisai, and Yusanji. At these temples, futaku (bronze wind bells) are hung from the four corners of the eaves of main halls and pagodas, in order to ward off evil spirits. It is said that futaku are the origin of furin (wind chimes made of various materials). There is a widely held belief that no disasters will strike anywhere that the sound of futaku can be heard. Furthermore, the sound of furin has a soothing effect on people, so these tinkling chimes have long been loved by Japanese people as one of many means for making it through the hot summers. Thousands of furin are displayed in this season, and summer time sweets are also for sale.
July-September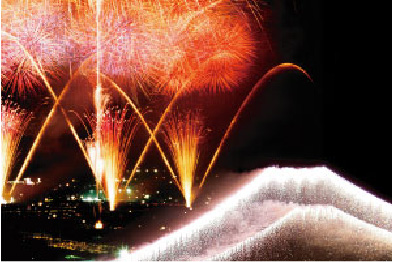 Fukuroi Enshu Fireworks

"Fukuroi Enshu Fireworks " which is performed in Bon festival in August, is a firework event which also takes pride in its top-ranking scale in Japan.The flower of a large wheel blooming in a summer night sky along with bold sound! The fireworks which color a night sky are also ranked as Japanese ten big fireworks and known widely as charming summer sights in Enshu area.The program is characterized by being able to realize luxury and colorfulness of the Japanese traditional fireworks. This firework display is so full of presence that you can  enjoy it, catching a flash, sound, music and a breeze by the whole body. Collaboration of powerful and colorful fireworks being shot off proximately with music by high quality sound is impressive particularly at the pay seat.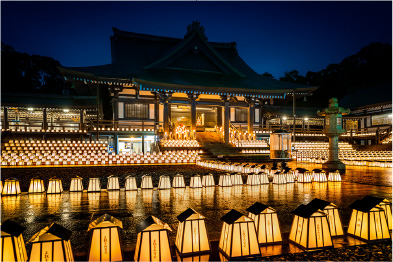 Man (Ten Thousand) Light Festival

It's told July 10 is the most favored divine day in a year. It's said that visiting the temple on the day deserves divine favor equivalent to that for 46,000 days. The temple bustles with many pious people from early morning until late night. It's told that the divine favor doubles when the light is presented to principal image Yakuyoke Kanzeon on the day. When the lights begin to burn on garden lanterns donated by dedicators, the precinct of the temple is wrapped up by the fantastic atmosphere, and visitors are invited to a different world. The "ground cherry fair" is held on the same day and bustles all day with the customers who evaluate pots.
October-December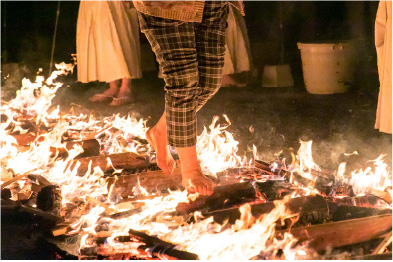 Fire Festival

The night on December 15 is " Fire Festival of Akiba " in every year. Visitors line up on approach to the temple with the torches which are lighting up sacred fire. After receiving prayer, an event of the fire walking where people cross in the fire is performed. Perfect state of health and accomplishment of wish in one's mind are prayed. The view that the flame from torch lineup and prayer blazes up, kindles brightly and flickers at night is fantastic, also gives an uplift sense and makes people feel the miraculous virtue. A fire show is also performed at a precinct and many people bustle from evening to night.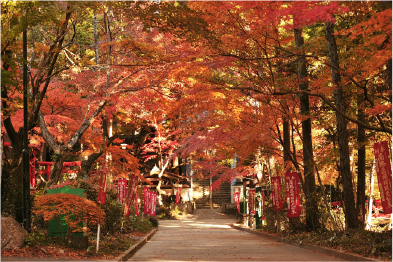 Colored leaves

Colored leaves can be seen at each place in the city including Enshu Sanzan. In particular, Yusanji in autumn is a landmark of colored leaves, and the states are highlights that about 1,000 maple trees turn red simultaneously from the end of November to the beginning of December. Deep red colored leaves cover up gates and approaches to the temples and delight visitors' eyes. When you walk around the wide precinct, you can be held by deep nature and feel a relief at the heart.
Food culture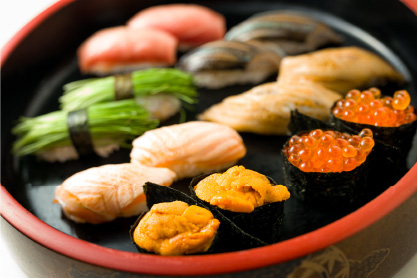 Restaurants

In FUKUROI-City there used to be a custom of dining together in gathering of the companies and communities, and many restaurants and pubs line up, and prosperity in the town has been produced.
"Tamago Fuwafuwa ", a food in the Edo era, reproduced from an ancient document which was found at Fukuroi-juku, has risen celebrity as a class B gourmet, and been enjoyed as a gourmet in this place, and it is eaten and appreciated by visitors to Fukuroi.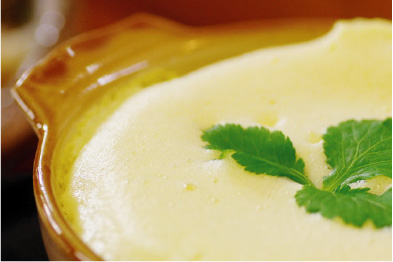 Tamago Fuwafuwa (Fluffy Eggs)

This is a food originated from the Edo era. Would it be named " Tamago Fuwafuwa " by the texture and appearance? There was a description about it in the menu of entertainment cuisine in shognate family, and it was a celebrity dish which samurais and wealthy merchants ate. It's a simple dish using only "eggs" and " soup stock" as ingredients, but you can enjoy its fluffy texture and taste full of flavor. The celebrity is also rising as "local Class B gourmet" and it has a good reputation from many peoples. In visiting FUKUROI-City, please eat it once by all means, thinking about the far Edo Period.
Stay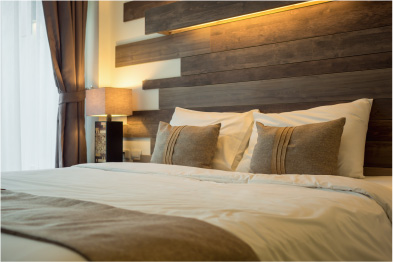 Accommodations

Stays are accepted for the foreign visitors at each place in FUKUROI-City.Please don't hesitate to inquire about from events and highlights in the city to products and gifts. We are providing for the best hospitality for you to enjoy FUKUROI-City fully comfortably.
Accsess
Stays are accepted for the foreign visitors at each place in FUKUROI-City.Please don't hesitate to inquire about from events and highlights in the city to products and gifts. We are providing for the best hospitality for you to enjoy FUKUROI-City fully comfortably.
by Train

From "JR Tokyo station", taking Tokaido Shinkansen for 90 mins, getting off at "Kakegawa station", change to the Tokaido Main Line, taking a train for the direction to "Hamamatsu" and arriving at "Fukuroi station" for 10 mins at 2nd station.

From "JR Oosaka station", taking Tokaido Shinkansen for 120 mins getting off at "Hamamatsu station", change to the Tokaido Main Line, taking a train for the direction to Shizuoka and arriving at "Fukuroi station" for 17 mins 4 stations.
by Car

Tomei Expressway : about 3 hours from Tokyo, about 4 hours from Osaka.
Going down at Fukuroi I.C. and riding on Route 61 of prefectural road to the south for 15 mins.

New Tomei Expressway: Going down at Mori-Kakegawa I.C. and riding on Route 58 of prefectural road to the south for 30 mins.
by Airplane

It takes 30 mins by a shuttle bus from the Mt. Fuji Shizuoka Airport to JR Kakegawa station